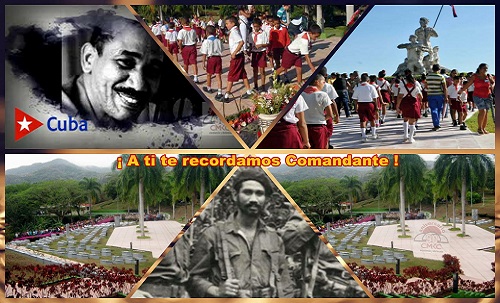 On September 11th four floral wreaths were laid at the Mausoleum of Heroes and Martyrs of the Third Front in the Santiago de Cuba province, next to the pace where the remains of Commander Juan Almeida rests to commemorate his passing away after eleven years.
The wreaths were sent by Army General Raul Castro, First Secretary of the Central Committee of the Cuban Communist Party; Miguel Diaz-Canel President of the Republic of Cuba; Esteban Lazo, President of the National Assembly and of the Council of State, and the people of Cuba.
Brigade General Agustin Pena, Chief or the Eastern Army; Lazaro Exposito, First Secretary of the Party in the province, and Beatriz Johnson, the provincial governess attended the ceremony together with other top municipal and provincial leaders.
Yairelis Semanat, the municipal president of the Federation of High School Students, in her keynote address ratified the commitment of the local young generation with the legacy of Commander Almeida.